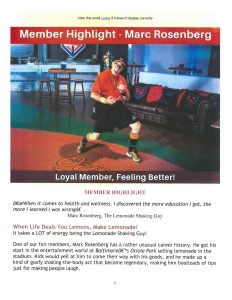 MEMBER HIGHLIGHT
"When it comes to health and wellness, I discovered the more education I got, the more I learned I was wrong".
Marc Rosenberg, The Lemonade Shaking Guy
When Life Deals You Lemons, Make Lemonade!
It takes a LOT of energy being the Lemonade Shaking Guy!
One of our fair members, Marc Rosenberg has a rather unusual career history. He got his start in the entertainment world at Baltimore's Oriole Park selling lemonade in the stadium. Kids would yell at him to come their way with his goods, and he made up a kind of goofy shaking-the-body act that became legendary, making him boatloads of tips just for making people laugh.
Adding a funny costume, Marc still does this energetic routine over two decades later but has accumulated new titles, including professional entertainer, auctioneer, and motivational speaker. In all he does, he brings laughter and joy to thousands of people each year! Now that's our kind of guy.
Without a doubt it takes enormous amounts of energy and good health for Marc to work while exposed to uncomfortable weather, surrounded by lots of noisy people, and working long hours on his feet. Matter-of-fact, when our conversation began, Marc was soaking his poor tired feet!
During our conversation, Marc exuded passion and enthusiasm, not only for what he does for a living but also for his journey into well-being.
Like many of us, Marc's personal journey to wellness has been a long complex one with many twists and turns.
He suffered serious injuries in a 2010 car accident and in the winter of 2014 the cold weather triggered those wounds.
Marc made a call to Teri, our director of member services and smiles, and she recommended a few nutrients that included Turmeric/Curcumin, Fish Oil, and a few other supplements. Within 9 months he was 75% better, and within 18 months of taking the supplements he was back to 100% on his feet.
Marc further explained because a few friends were battling cancer he was researching alternative cancer treatments and had stumbled across Bill Henderson's work. This is how he discovered Cell Nutritionals and learned about Constant Health, a jam-packed super-supplement, which he wanted to try straight away. Once he tested the product and spoke to Teri, it was all over for him. He was hooked!
Marc shared how he was blown away by the fact he could call the company, speak to a real person, and get friendly guidance on supplements he was considering.
Marc stated, "In this day and age, the kind of personal service and caring shown by Teri made me loyal. Honestly, I can't imagine going anywhere else."
Marc's has several favorite supplements he considers staples, which include Constant Health Daily, Turmeric/Curcumin, Vitamin D3, and Beta Glucan.
We would like to thank Marc for his time in sharing his personal story with us. We're very grateful to have him as a loyal member and hope his story is an inspiration to others.
If you would like to share your story, please send us a quick message and we will look forward to reaching out and giving you a 20% OFF coupon for use any time if your story is chosen.