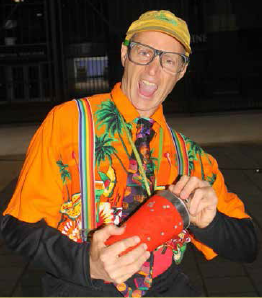 Meet Marc Rosenberg
Around 24 years ago this intense, gregarious and fun little guy jumped into the limelight. It all started at Oriole Park at Camden Yards and took off from there.
It was all much bigger than expected and perhaps that's what makes his character and performances more sincere and effective. Marc believes in himself and what he does. He knows that when he dons that crazy outfit and focuses his energies, he can make anyone laugh and have a great time.
What a great combination – the love of entertaining and the desire to make people feel good. There is so much positive energy flowing through Marc's spirit. His frenetic personality and friendly demeanor truly have no limits to what they can achieve. It takes a special person to bring the Shaking Guy to life – and Marc does it so well.